Engage Features
Create amazing presentations without even really trying.
Using presentation templates can save a significant amount of time and reduce the risk of errors.
Engage comes with a series of built-in templates which can be modified before the software is deployed to include your logo on all the slides in the library.
Users can also edit any element in the template slides.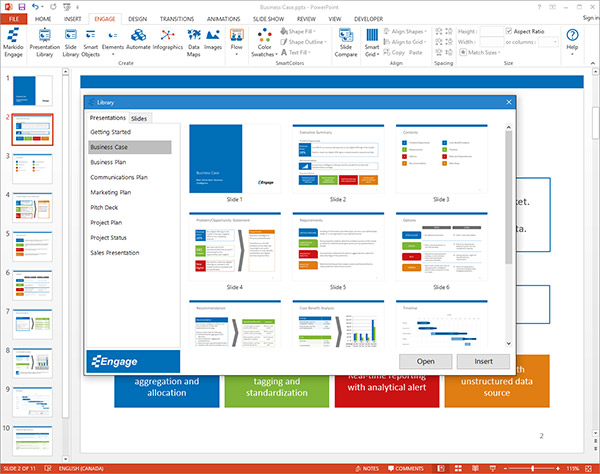 Find the perfect slide to add to your presentation.
The slide library gives users the ability to quickly find and add pre-designed slides into their presentations.
The slide library is organized into 20 categories and represents the majority of all types of slides.
Similar to the presentation library, slides in the slide library can also be customized before the software is deployed to incorporate your brand.
Improve understanding, memory and engagement with SmartObjects.
SmartObjects are pre-configured shapes that can be added on any slide to help convey information visually.
Using SmartObjects helps communicate information in a more understandable and memorable way.
These objects can be modified by simply clicking on them and then editing them like you would any shape in PowerPoint.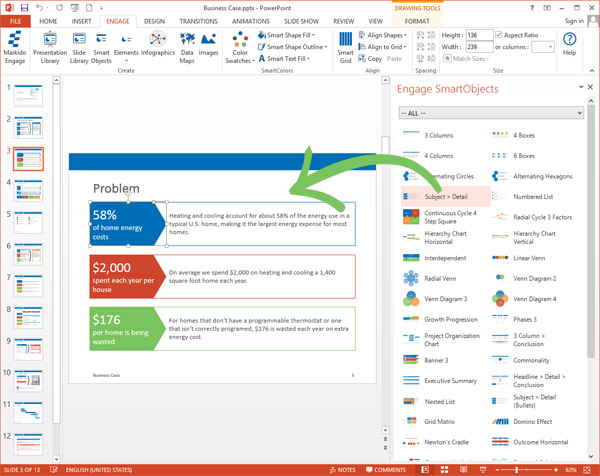 Add engaging design elements to your presentations.
Drag and drop hundreds of built-in design elements onto any slide.
Add icons and callouts to draw attention to your content.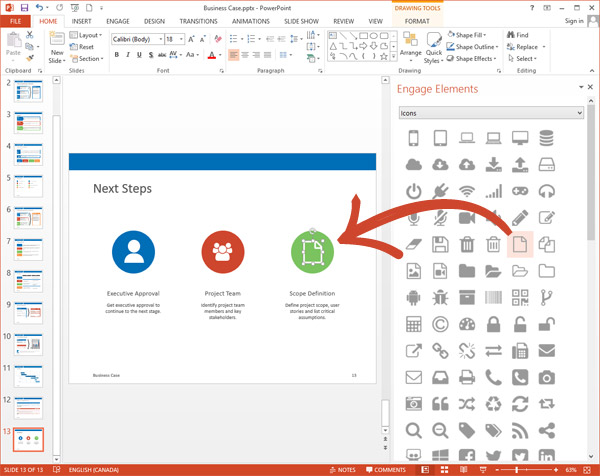 Create mockups with drag and drop wireframe elements in Engage.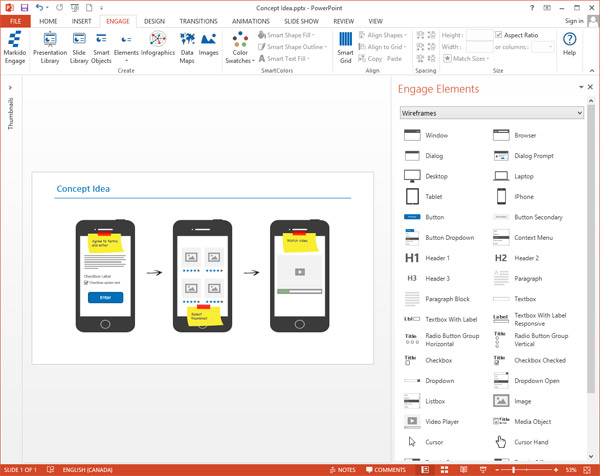 Users can also add pre-configured and fully editable Microsoft Excel charts via drag and drop functionality.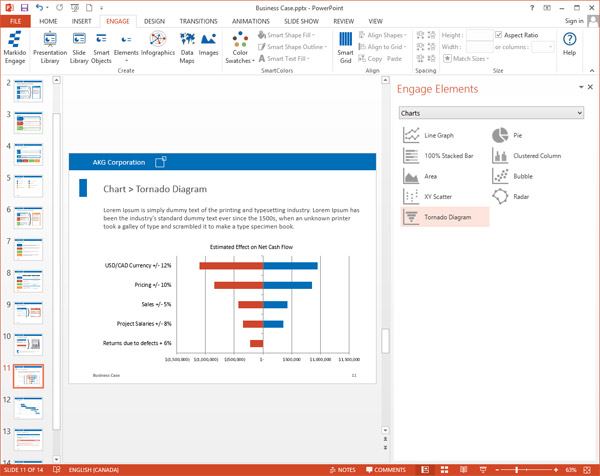 Dress up your bullet points in seconds.
Quickly turn any boring bullet point slide into an attention grabbing slide.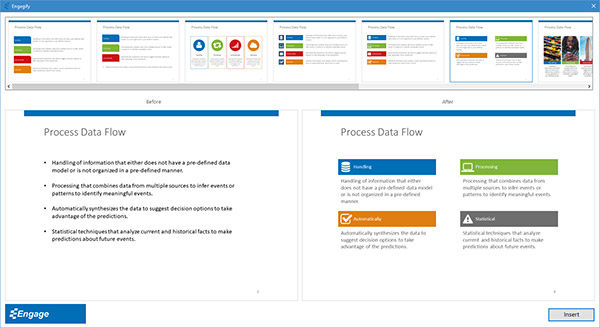 Let us take care of the design so you can focus on your content.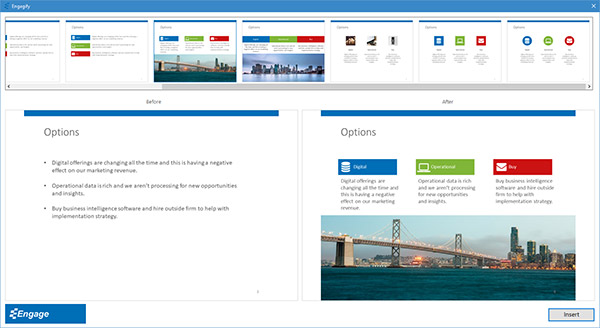 Automate your presentations.
Link shapes, tables, charts, images and infographics to MS Excel and Project. When the source data changes you can update your whole presentation from multiple sources with just one click.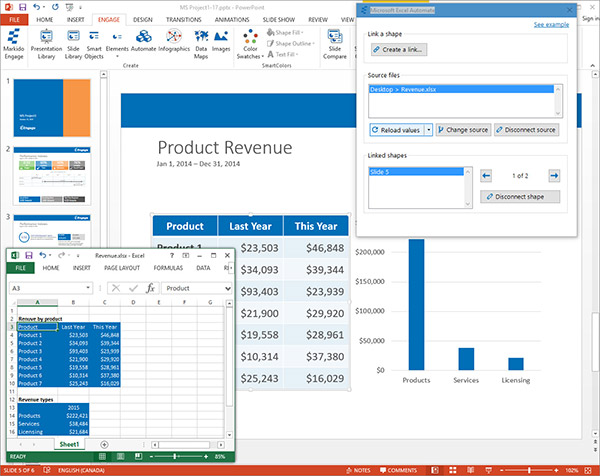 Use SlideMerge to generate slides in a presentation or full presentations all from a slide template that is fed from the rows of an Excel worksheet or MS SharePoint list. Think mail merge for presentations.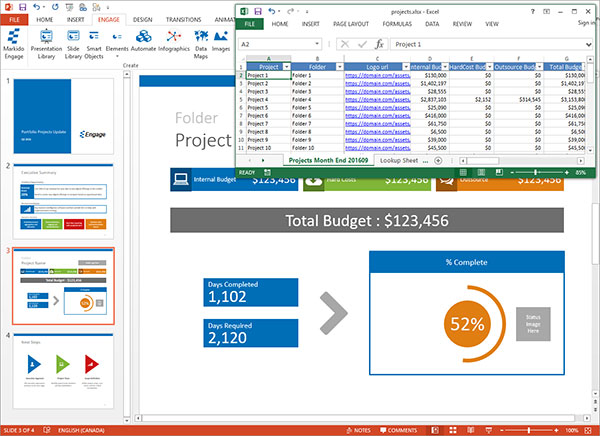 Using presentation automation reduces tedious copy/paste tasks and minimizes potential errors.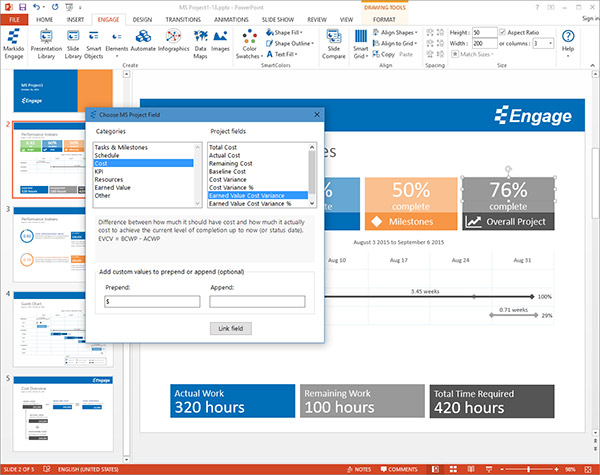 Visualize any data set.
Create and edit infographics like treemaps, heatmaps, word clouds, marimekkos and pictogram charts right in PowerPoint.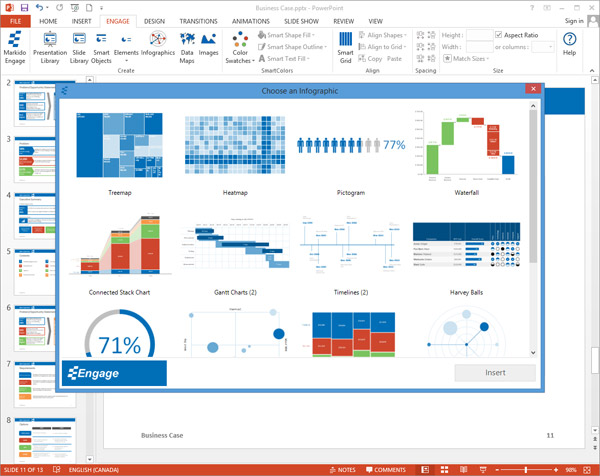 Every Engage infographic is linked to a Microsoft Excel worksheet making it easy to update with data from any source.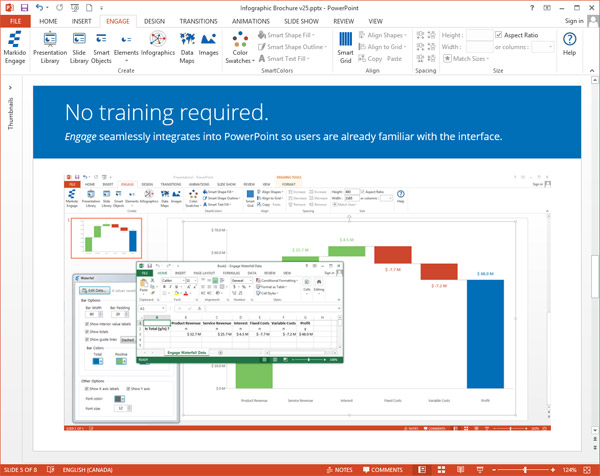 Use infographics to visualize any data set to help inform and persuade.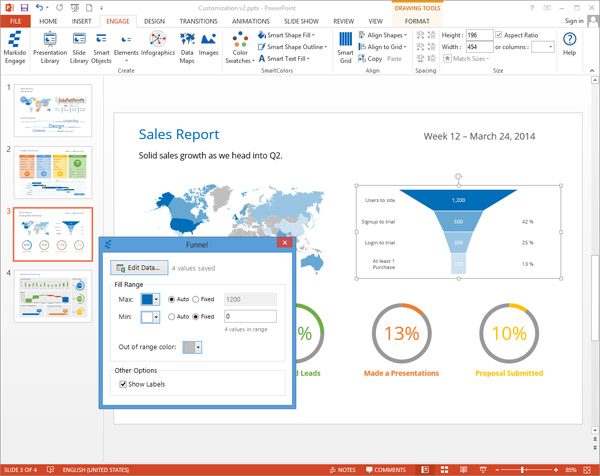 Add data maps to your presentations.
Use data-driven maps to show your geographic-related data.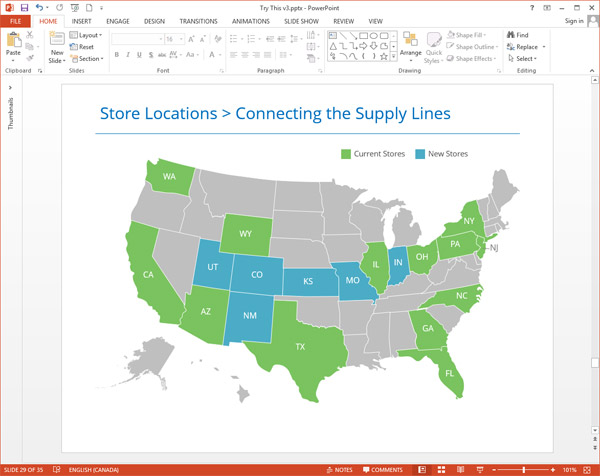 Every Engage data map is linked to a Microsoft Excel worksheet making it easy to update with data from any source.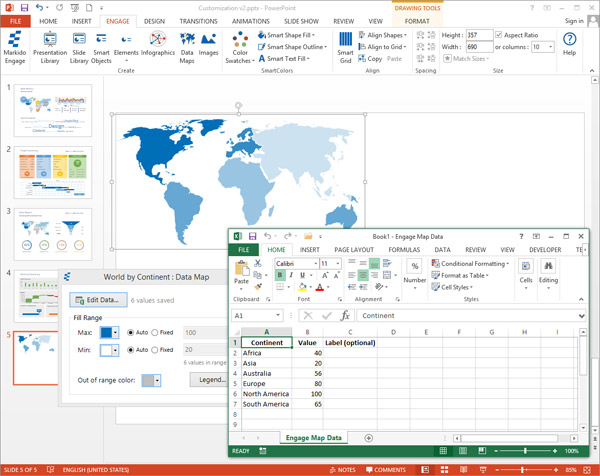 Engage covers the globe with multiple data-driven maps to choose from.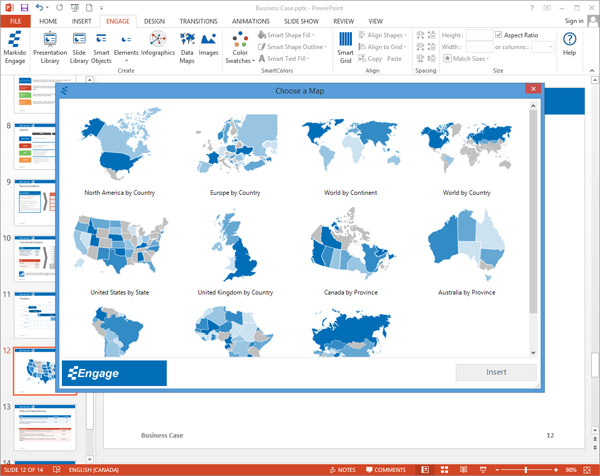 Finally, a simple Agenda.
Populate your new Agenda from your current presentation titles. We also provide 6 different designs to choose from to make you look good.
After completing your presentation you can quickly go back and refresh your Agenda to match your new and updated slides.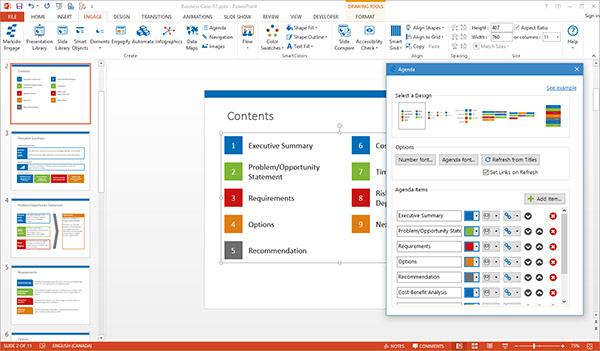 Of course you can always manually edit items as well as configure icons and even set links for each item in your Agenda to jump to the correct slide.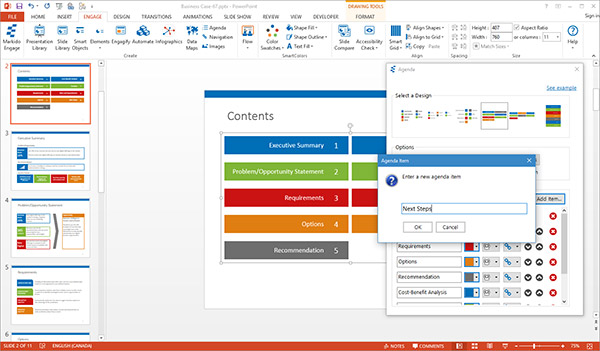 Make your presentations more accessible for people with disabilities.
Run our accessibility tests to get an overview of how accessible your presentation is.
We provide quick and convenient shortcuts to fix the issues that are found.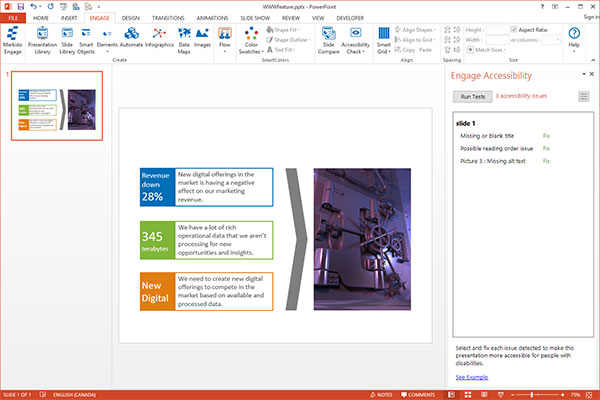 Visually check and fix the screen reading order of your slides without having to use the selection pane.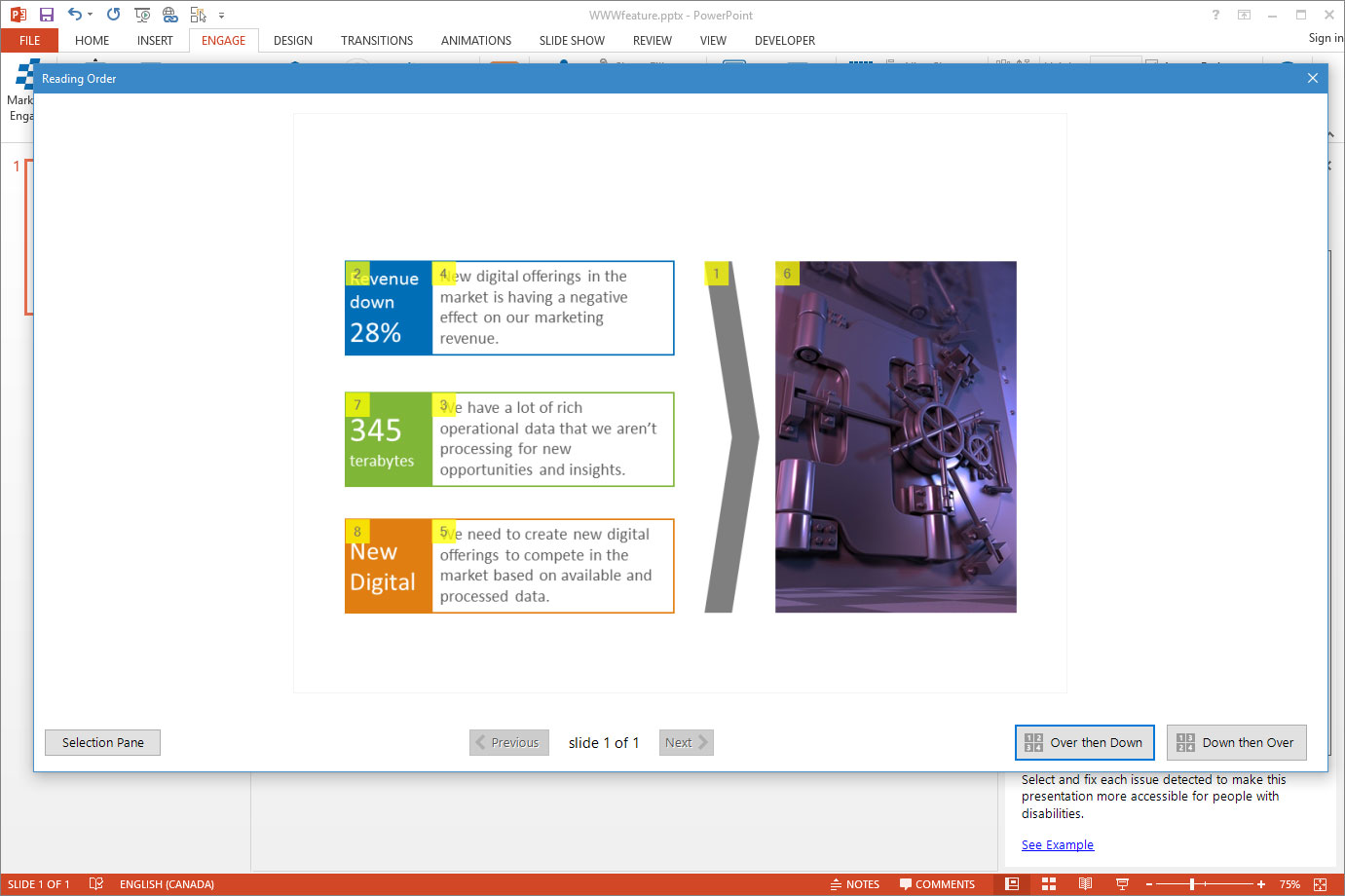 Add a slide description so users with screen readers can get an overview of what the slide is about before reading the detailed content.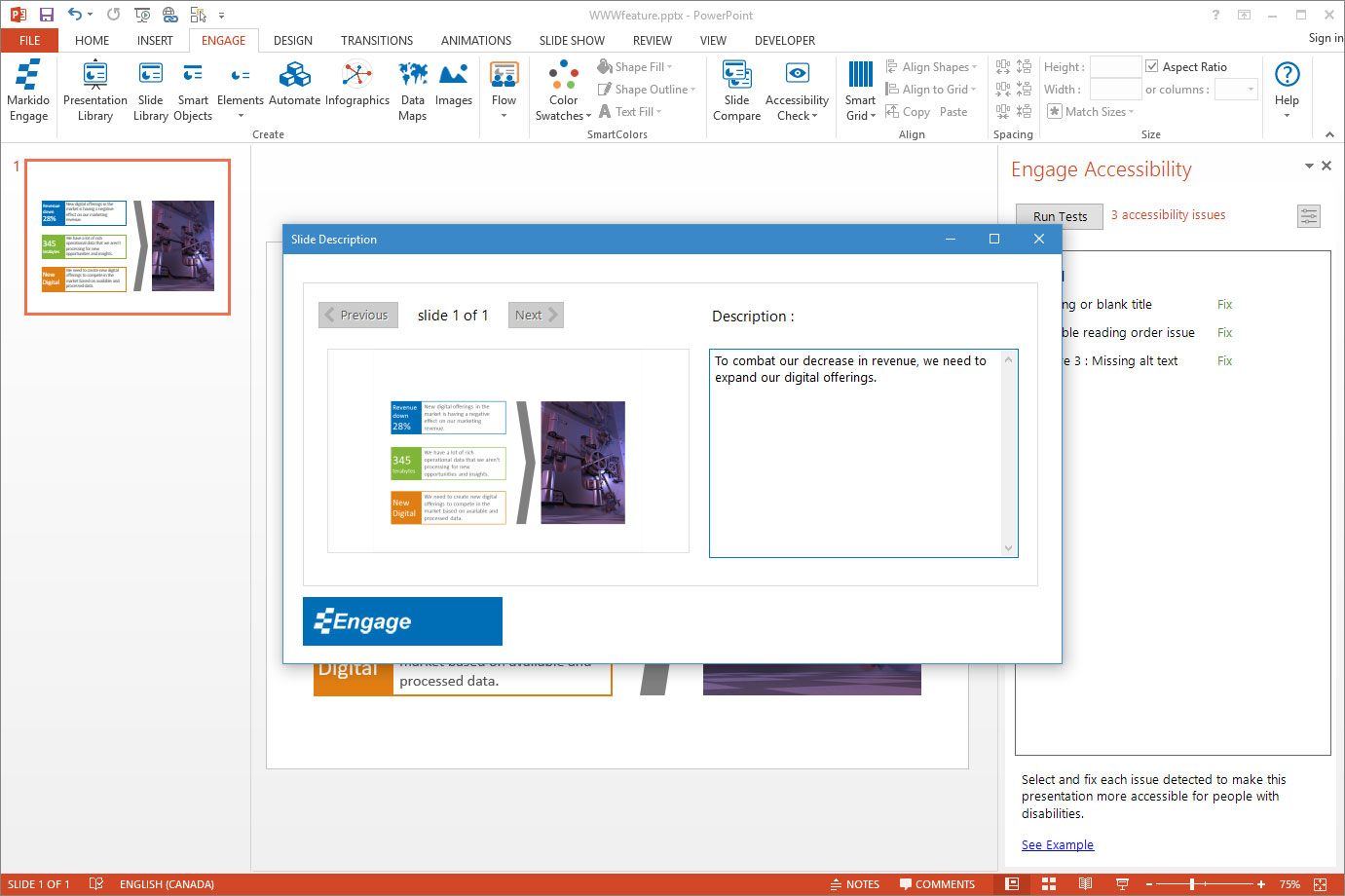 Spend less time finding the right image.
Images are an important part of creating a visually impressive presentation.
Engage uses Microsoft's powerful Bing image search engine to find the exact image you're looking for.
You can search by color, image type (i.e. vector image), image content or popular quotes related to your search terms.
Once you have found the right image simply click on it to import it into your presentation.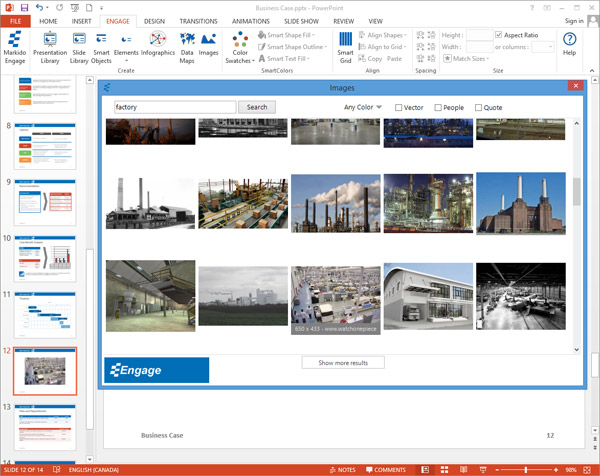 Add motion and zoom to any presentation.
Turn any presentation into an attention grabbing presentation by adding motion and zoom right in PowerPoint.
Start by selecting a canvas slide. This is the slide that serves as the base for your presentation. You will be able to zoom into any shape on this slide and reveal your other slides.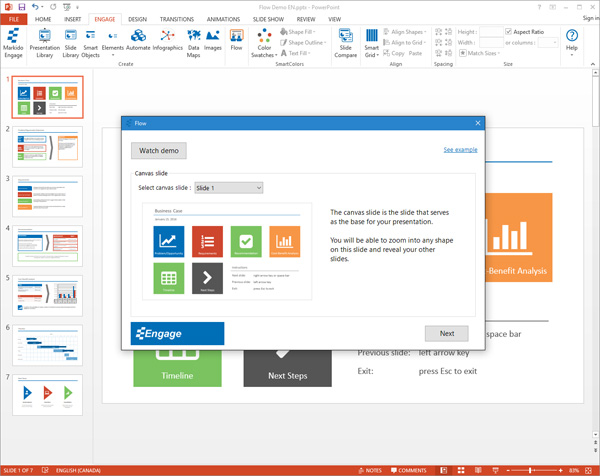 Once you have selected your canvas slide you can then add steps to your presentation path. These are the shapes you want to zoom in on.
For each step you can add slides you want to show.
Now you are one click away from keeping your audiences attention.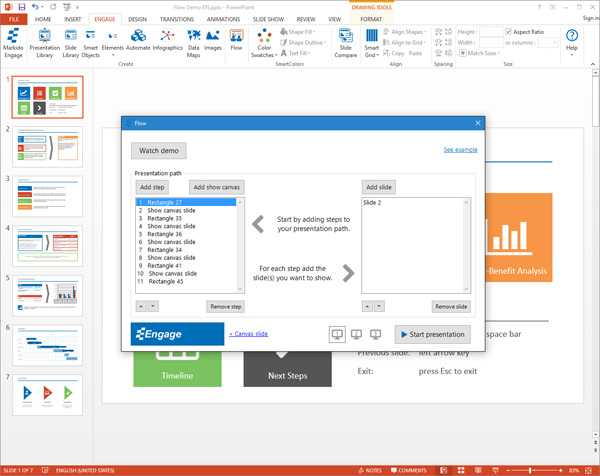 Pick colors that work well together.
SmartColors are sets of color swatches expertly chosen for visual impact and can be applied to multiple objects throughout the presentation.
This feature lets you quickly change the look and feel of the entire presentation including charts, infographics, data maps and tables with the click of a button.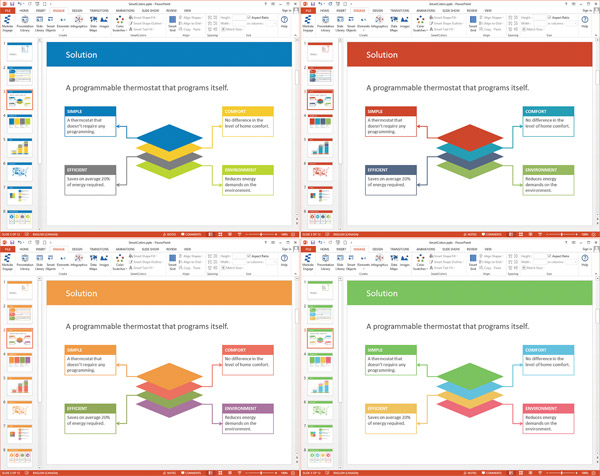 Put things where they belong with SmartGrid.
SmartGrid is a layout system that makes it easy to properly align and resize objects so that your presentations look more professional.
Engage can recognize the location of any object on your slide and can position similar objects on other slides in the exact same position.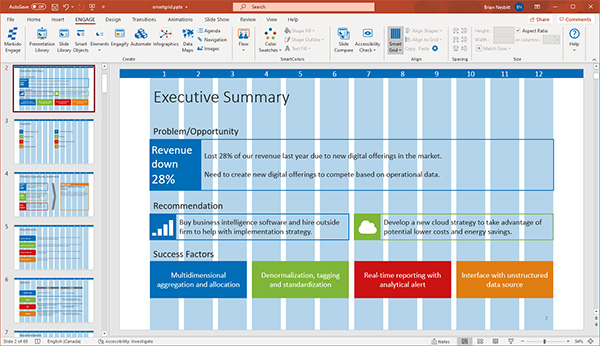 Over 100,000 amazing presentations have been created with Engage.