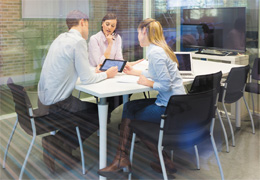 Think + Work | Visually
We understand how important presentations are in the flow of decision-making information.
We know how much work goes into gathering, organizing, analyzing, presenting and disseminating information via PowerPoint presentations.
We show companies how they can create more effective presentations in less time.
Contact us for more information at 1-844-900-5440 or engage@markido.com.
Customization
We offer 3 levels of customization to help you get the most out of Engage.
Level 1 - Include

Level 2 - Design

Level 3 - Build

Before our software is deployed to your users, we can include your existing design assets:

Logos
Corporate Colors
Presentation Templates
Icons
Stock Images

We can create professionally designed assets and include them in your unique version of Engage:

Presentation Templates
Color Swatches
SmartObjects
Icons
Wireframe Elements

We can build a custom version of Engage with any of the following:

Unique Infographics
Unique DataMaps
New Functionality
Automated Presentations via Data Integration (Salesforce, Hubspot, Microsoft Project, Atlassian Jira, SAP, etc.)